PACKING 1×10
GABARANK NT Tablet is a combination medicine used for the treatment of neuropathic pain. This medicine decreases the pain by stopping the movement of pain signals to the brain.
GABARANK NT Tablet is taken by mouth, with or without food and preferably at night. It is advised to take it at a fixed time each day to maintain a consistent level of medicine in the blood. In case you miss a dose of this medicine, take it as soon as you remember. Finish the full course of treatment even if you feel better. It is important not to stop taking this medicine suddenly without talking to the doctor as it may worsen your symptoms.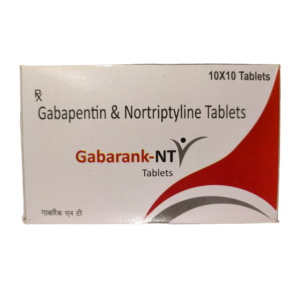 Benefits of GABARANK NT Tablet
In Treatment of Neuropathic pain
GABARANK NT Tablet is a combination medicine used to treat long-lasting (chronic) pain caused by nerve damage due to diabetes, shingles or spinal cord injury. It reduces pain and its associated symptoms such as mood changes, sleep problems, and tiredness. It is thought to work by interfering with pain signals that travel through the damaged nerves and the brain.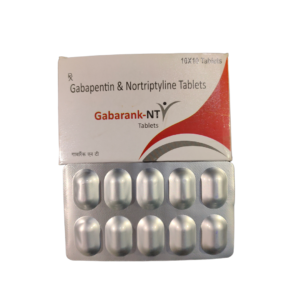 How GABARANK NT Tablet works
GABARANK NT Tablet is a combination of two medicines: Gabapentin and Nortriptyline. Gabapentin is an alpha 2 delta ligand which decreases the pain by modulating calcium channel activity of the nerve cells. Nortriptyline is a tricyclic antidepressant which increases the levels of chemical messengers (serotonin and noradrenaline) that stop the movement of pain signals in the brain. Together, they relieve neuropathic pain (pain from damaged nerves).