PACKING
1×10 Tablet
CERACEF-CV Tablet is a combination medicine that is used to treat various types of bacterial infections. It fights against the microorganisms to prevent their growth and further spread of the infection.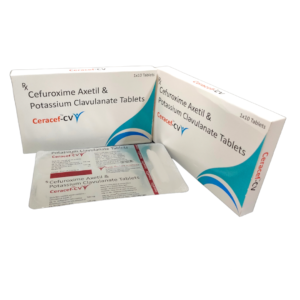 CERACEF-CV  Tablet is a prescription medicine. It is advised to take it as per the prescription. It can be taken with or without food, but it must be taken at a fixed time to ensure better efficacy. Do not consume more than the recommended dose, as this may have harmful effects on your body. If you miss a dose, take it as soon as you remember. The course of the treatment must be completed even if you feel better. Sudden discontinuation of the treatment may affect the potency of the medicine.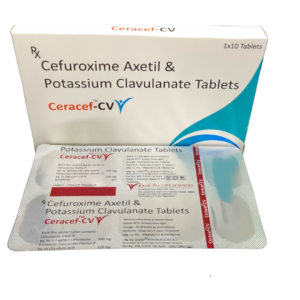 Benefits of CERACEF-CV Tablet
In Treatment of Bacterial infections
CERACEF-CV Tablet contains two different medicines, Cefuroxime and Clavulanic Acid, that work together to kill the bacteria that cause infections. Cefuroxime works by stopping the growth of bacteria. Clavulanic Acid reduces resistance and enhances the activity of Cefuroxime against bacteria.
This combination medicine can be used to treat many different bacterial infections such as ear, sinus, throat, lung, urinary tract, skin and soft tissues. It usually makes you feel better within a few days, but you should continue taking it as prescribed even when you feel better to make sure that all bacteria are killed and do not become resistant.