Compositions: Montelukast(10.0 Mg) + Fexofenadine(120.0 Mg) chewable Tablet
Packing: 1×10
Medical Description
Lorixy-FM tablet is an anti-allergic medicine. It is used for the management of symptoms of allergic rhinitis. This condition is characterised by runny & stuffy nose, blockage in airways, sneezing, iching, watery eyes and other allergic symptoms. This tablet contains a combination of Montelukast and Fexofenadine as active ingredients. Lorixy-FM works by blocking the production of chemicals that cause the symptoms of allergy. Allergic rhinitis is also known as hay fever. It is a condition of inflammation or swelling inside your nose due to an allergen. Allergic rhinitis is a common condition that affects an individual's quality of life and, if left untreated, can contribute to asthma, otitis media, and sinusitis. Allegra M tablets should be taken as advised by your doctor for the suggested duration. You can take this tablet with or without food, but preferably at the same time every day for better results. You may experience dizziness, drowsiness, and headache while on this medication. Thus, be cautious while driving and operating the machine. While taking this medicine you should rinse your nose regularly to clear the allergen from your nasal passage. As a precautionary measure you should avoid exposure to a particular allergen you are aware of or suspect is triggering your allergy.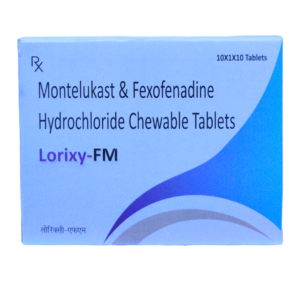 Uses of Lorixy- FM TABLET
For the treatment of allergic rhinitis in adults only.