Composition
SODIUM BICARBONATE-700MG + SODIUM CHLORIDE-2.3GM
Sinoflo Nasal Wash Kit belongs to a group of medicines called 'nasal decongestants' used to treat sinonasal disease. The sinonasal disease includes chronic rhinosinusitis (Chronic sinusitis occurs when the spaces inside your nose and head (sinuses) are swollen and inflamed for three months or longer, despite treatment), allergic rhinitis (also known as hay fever, is a type of inflammation in the nose which occurs when the immune system overreacts to allergens in the air), and viral upper respiratory infections (common viral infection that affects the nose, throat, and airways).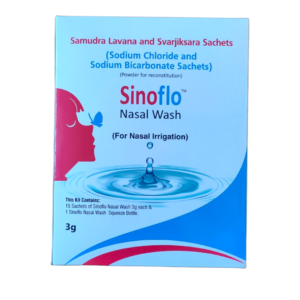 Sinoflo Nasal Wash Kit is a combination of two drugs: Sodium bicarbonate and Sodium chloride. Sinoflo Nasal Wash Kit both are sodium salts. Both of the salts work together to provide moisture in the nasal cavity so that the thick mucus softens. This, in turn, helps to clear out the mucus from the nose and relieves the nasal (nose) blockage. This is how it helps in easy breathing and also treats dryness of the nose by providing enough moisture.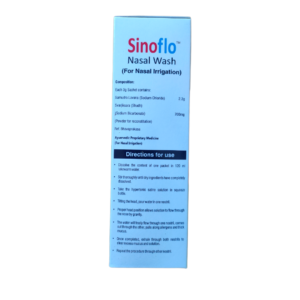 Sinoflo Nasal Wash Kit is available in the form of powder and nasal spray. With the Sinoflo Nasal Wash Kit plastic squeeze bottle is provided in the pack. Sinoflo Nasal Wash Kit should be mixed with water and administered through a plastic squeeze bottle into nostrils. You are advised to take Sinoflo Nasal Wash Kit for as long as your doctor has prescribed it for you depending on your medical condition. In some cases, you may experience certain common side-effects such as ear fullness, burning or stinging of the nasal mucosa, epistaxis (bleeding from the nose). Most of these side-effects do not require medical attention and will resolve gradually over time. However, you are advised to talk to your doctor if you experience these side-effects persistently.